SAS Knowledge Today
General Information
SAS is a combination of a high-level programming language, a statistical analysis software, and a data processing and management system. This Strategic Application System is constantly being developed to support current data mining and visual analytic protocols. Currently SAS has become a central tool for massive data processing. Many notable business organizations, government agencies, health sectors, and academic institutions employ SAS as a primary tool for data processing and decision analysis worldwide. As any global industry faces the challenge of massive data processing, the demand of data analysis specialists proficient in SAS remains high. This examination certifies one's capabilities in SAS for data handling and appropriating varieties of SAS procedures and modules.
Examination Content
Creating SAS dataset and variables
Read access and write to external file
Merging and updating SAS datasets
Data descriptions and Summary information
SAS functions and Data type conversion
Using array
Processing flow
Examination Date and Registration
Please consult your national distributor.
Certificate Sample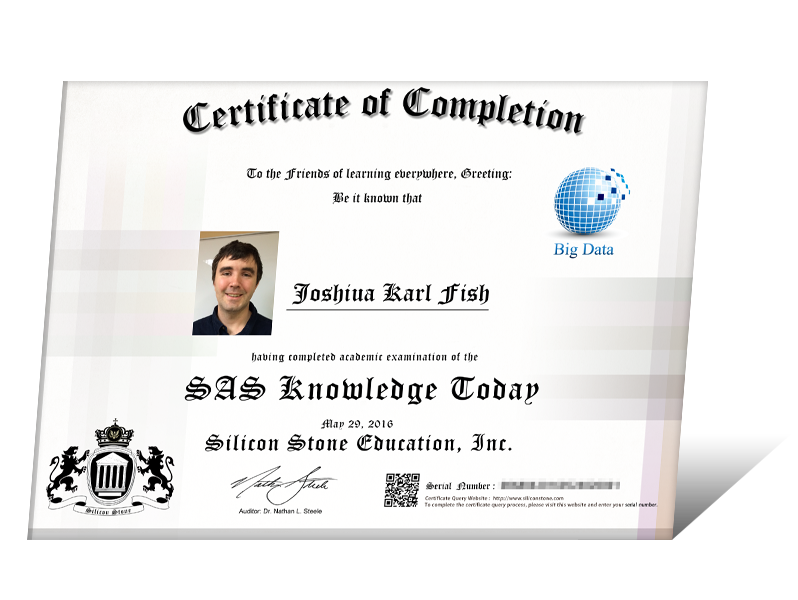 Scoring
The exam contains a total of 50 questions.
15 true and false, 35 multiple choices.
Each question is worth 20 points, leads to full score of 1000 points.
Minimum passing score is 700 points.
Examination Time
60 minutes